Bad luck in Kruger National Park, South Africa

Total Solar Eclipse, December 4th, 2002
The total solar eclipse of December 4th, 2002 was a real crowd-puller in the Kruger National Park. Three public viewing sites were created along the main road. No fences were set up, instead the viewing sites were patrolled by armed guards.
I took part in a group led by Jensen Safaris. We were based in the Mopani Camp which is located within the totality zone but with only 40 seconds of totality. In the evening the sky was perfectly clear but when we woke up at 03:45 the sky was overcast. At 04:15 we left the camp, driving northwards to Dzombo - the southernmost of the three viewing sites. However, we were not allowed to stop in Dzombo so we continued to Nwarihlangari - the middle viewing site - about 13 km north-west of the Shingwedzi Camp.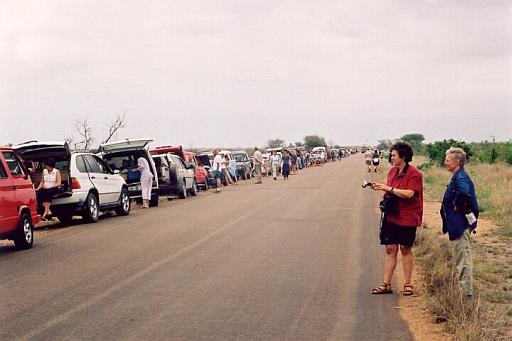 The Nwarihlangari public viewing site.
Photo: Stig Linander.
There were quite a few holes in the cloud cover during the first half of the initial partial phase, but we saw nothing of totality. We didn't even see the shadow, probably because of double cloud cover. The only thing we saw of the eclipse was the rapid decrease and increase of the light level at second and third contact.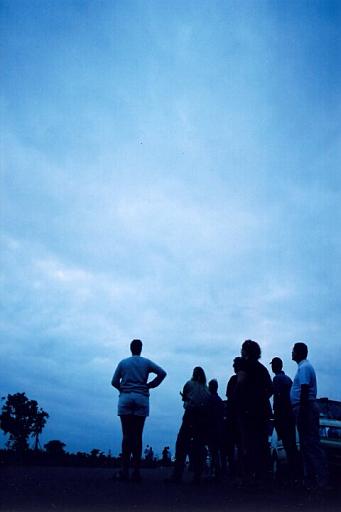 Totality. Clouds, clouds, clouds!
Photo: Stig Linander.
Totality wasn't as dark as I experienced in 1999 and in 2001, possibly because of the relatively narrow shadow, possibly because of the clouds.
Two minutes after third contact, we had a glimpse of the 98% eclipsed Sun through the clouds. If only that hole had appeared 2-3 minutes earlier!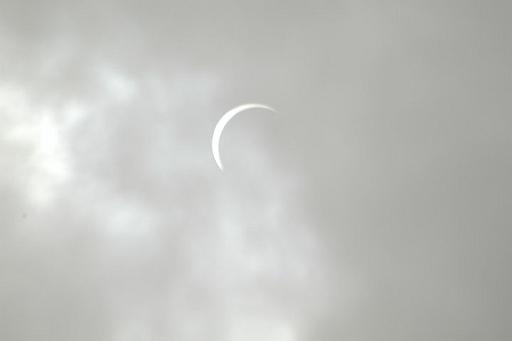 A few minutes after third contact!
Photo: Holger Jensen. Copyright.
We had carried a bottle of "Gammel Dansk" all the way to South Africa. Others in our group had bought a bottle of champagne. Neither was opened - there was nothing to celebrate.
South Africa
South Africa is a beautiful country with many scenic wonders - some famous like the Blyde River Canyon - some virtually unknown like the Tswaing Meteorite Crater. Game viewing is great fun - a much greater experience than I had imagined before I came to South Africa. And with more than 900 species of birds recorded (about 1/10th of all species in the world), South Africa is a birders paradise. So of course we also did some birding.
Links
Text: Stig Linander, created: 2002-12-09, last revised: 2008-08-19